Stories
My Story, Jarvisburg School 1936
Ruth Owens Dillard
Schools attended: Jarvisburg School
I started school in 1936. At night we had to get clothes ready for the day. In the winter months we had to bring in wood for heating and cooking, bring in water, clean the lamp and put oil in the lamps and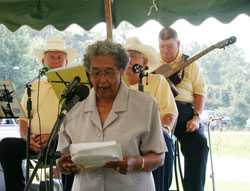 clean the kitchen after dinner. In the morning we got up and washed and dressed for school. We walked 2 ½ to 3 miles each way.
At school, sometimes the room was cold and we gathered around the potbelly stove to get warm. At 8:00 the bell would ring, time to start lessons. At my time, we had another building in front of the old school. It was a long building with two doors, one for going upstairs and the other, downstairs. The halls were dark and long. The lunchroom was in the building now. Lunch cost 3 cents or we brown bagged our lunch. Lunch was 1 hour and we could play with friends. School lessons began at 1:00 until the end of day at 3:00. We started the long journey back home to the same old chores.
School closed for 2 weeks to pick cotton. The white schools didn't close. Sometimes we had to miss days to pick beans, cut cabbage and kale. Sometimes cut white potatoes in January for planting. Each year before the schools closed, all the schools came together to celebrate school closing. We played volleyball, handball or baseball and other games. One person in six grade was chosen to take the exam for their school. The one that had the highest score was chosen Queen. I was chosen for my school and won. I also had to make a speech.
I started high school in 1944 and graduated in 1948.
---
Starting School at Jarvisburg
Norma Case Williams
Schools attended: Jarvisburg School
I started school in September 1939 at age 6. During those times if you lived two miles or less you had to walk to school. I lived two miles away. There were other children that lived close to me, but I had chores to do before going to school, so all the other children were ahead of me. I was always afraid walking alone, but I had no choice. I think now how blessed I was that all went well.
When I first left my house I went through a wooded area on both sides, then I came to a field with lots of sand, then a wooded area again, then I came to a house, Aunt Mariah's old house), lots of vines and grape wines were growing in the trees. Cousin Cane and Luchin lived in the house at the next corner, and their dogs always barked at me. I crossed another open field and then I was at Cousin Hattie's house and I would stop to see if Snookes had gone. By now my hands were very cold and Cousin Hattie would put my hands in warm water and rub them to warm them, then dry them and send me on my way. At this point I could take a short cut through a woods, sometimes passing pigs and cows. But sometimes I'd walk past other houses and more dogs. Along the main road, with cows in a pen on one side, I had to try not to breathe so Dan Wright's big brown water dog didn't see nor hear me. It seemed he always would and he'd come out to bark at me.
Well, by the time I got to school, I was tired. I did love school very much and got very upset when I had to stay home to work. I would cry, but that didn't do any good.
---
On my way to Jarvisburg Colored School
Virginia Hunt Byrd
Schools Attended: Jarvisburg: 1934 to grade 6 / Snowden (CCTS): High-1940
I was born on the east side of the main highway in the backwoods of Jarvisburg. In the late 1930's, we had to walk about two (2) miles to school each day, and as children, we found ways to keep ourselves engaged. One day, on our way to school, we were playing when we heard the morning bell ring. So we decided not to go to school. Instead all of the neighborhood kids went into the woods to play. We made strawhouses and played house. When we heard the lunch bell ring, we stopped playing, sat down and ate our bag lunches and then went back to playing. When the bell rang at the end of the day, we picked up our bookbags and proceeded to go home. We were not aware that the school had already notified our parents that we had not attended school all day. Of course we paid for it with punishments from our parents.
The main highway on which Jarvisburg School is located divided the neighborhood children into the east and the west side. Almost everyday on our way home from school, some of the children from the opposite sides of the road would fight one another. One day the children from the west side of the highway were picking on my brother William. I happened to be wearing my first pair of Easter shoes with a small heel. I took off my shoe and I worked on some heads of those picking on my brother. When I got home, I had a foot full of sand spurs that had to be removed but I felt good because I had helped my brother.
My proudest moment in school came in 1942 when I represented my class in a spelling contest at Currituck County Training School in Snowden, NC. My Uncle Raymond carried me in his T-Model Ford to the night program at school which was more than 20 miles from Jarvisburg. I won the spelling contest and received a blue and orange felt cloth, Miss Currituck Banner. I was so happy you would have thought that I was Miss America. My parents kept the banner hanging on their bedroom wall for more than
40 years.
Our parents were very spiritual and demanded that we do well in school. We were never kept out of school to work. We also went to church each Sunday and stayed all day if necessary. You never stayed home unless you were ill. My experiences from Jarvisburg Elementary through Currituck County Training School gave me the inspiration to continue my education after I went to New York to live. I was always interested in medicine so I was trained in surgical nursing and worked as an assistant in the operating room at Bellevue Hospital in New York City for thirty-five years prior to retiring in 1982.
---
My May Day Memories at Jarvisburg School
Mrs. Lena LaVerne Hunt Simons-Clyde
Schools Attended: Jarvisburg: 1939-1944 / Snowden (CCTS): 1944-1950
I attended Jarvisburg School from 1939 to 1944. We had to walk to and from school each day, a total of about 4 miles, though all kinds of weather. I always looked forward to our May Day Celebration at school. We got to do lots of fun things on that day. We danced around the May pole and had to wear our Sunday best. I always got a new frilly dress and a new pair of Mary Jane shoes. People from the other schools in the county would come to help us celebrate and we had lots of fun.
For seventh grade we rode the school bus to Currituck County Training school at Snowden, NC. My first teacher there was Mrs. Bessie Jones, the wife of our Principal, Mr. Joseph Jones. They lived in Elizabeth City, NC. One week end Mrs. Jones took (3) three of the girls home for the weekend to attend some sort of celebration in Elizabeth City. I was one of the three (3) girls chosen from her class and I'll never forget the experience for living there was different from living on the farm. We had a wonderful time in the city.
I had several beautiful teachers who seemed to want to help the children to be something in life. During 7th grade I was elected to represent my class on the school Senate. In 1950, I graduated from high school with the last class to leave CCTS. I was 17 years old, the youngest in my class. Some of my teachers were, Mrs. McArthur; Home Economics, Miss Holly- Science, Mr. Haywood-English & French, and Principal Mr. Joseph Jones. After graduation, marriage, and three daughters, I went to nursing school and retired from Bellevue Hospital in New York in 1997 after working there for 28 years.
---
From Currituck Union High School to St. Augustine's College in 1953
Douglas Philmore Lindsey Sr.
Schools attended: Coinjock School: 1942-1949 / Snowden(CCTS): 1949-1950
Currituck Union: 1950-1953 / St. Augustine's College: 1953-1957
Growing up in Poplar Branch , NC playing baseball and basketball with the neighborhood boys and girls was a wonderful way to relax after having worked hard in the fields. At Currituck Union School, I became a good basketball player and impressed my coach Mr. Joseph Dempsey.
After graduating from CUS, Mr. Dempsey, personally came to my home and got permission from my parents to take me and my few belongings in his car to St. Augustine's College in Raleigh, NC, without prior registration, with my aspirations of being a collegiate basketball player. He introduced me to the College President and I was enrolled in September of 1953 on a partial basketball scholarship.
At that time I was a 5-8, 140-pound freshman and was cut from the 1953 college basketball team. I was cut again in 1954 but I refused to give up. Along with some of the other players who were not highly recruited and had been cut from the team, I helped form a "renegade" team dubbed the "City Five" that played some of the local high schools. We made Taylor Hall, the campus gym at that time, our second home and worked to improve my game. Meanwhile I was allowed to participate in some of the varsity practices and intramural games.
After growing three inches and improving my skills, Coach George Walker made sure that I came out for the team my third year. I finally made the team and wound up playing for two years of varsity basketball and was the captain of the 1956-57 team. I was also on e of the top rebounders in the CIAA, averaging 11 boards per game.
I graduated in 1957 and I am proof that "Hard work and perseverance" will pay off. After graduation I went to work for the District of Columbia Recreation Department as a youth worker and retired in 1970 after 31 years of service and numerous civic and community acknowledgements. I was inducted in the St. Augustine's Athletic Hall of Fame in 2004. To be continued.